These Disney Princess Looks Will Solve All of Your Halloween Costume Drama
Most of us have channeled a Disney princess at least once in our lives. Maybe it was because you bought a turquoise embellished swimsuit reminiscent of Ariel's fins, or you wore a yellow statement dress to a wedding that looked just like Belle's ballgown. And don't even try to tell us you've never dressed as your favorite character for Halloween.
Though that may have been years ago, this Halloween, we're ready to take everyone's favorite princess looks to new heights. We're updating their wardrobes by shopping at all our favorite stores, and Ariel, Cinderella, Belle, and the rest of the gang are coming out looking just like street style stars — all with a little hair and makeup help from our friends at Beautini.
Read on to see how we elevated these bold looks using clothes we'll actually wear again, and get ready for a few head turns when you head out on Halloween. No, it's not because everyone's looking at your crown; they just want to know where you got your really cute clothes.
1. Ariel
Ariel's trading in her shell bra and fins for a sparkling teal gown that looks elegant and feels totally effortless. And don't think we forgot about that quintessential pop of purple — these snakeskin peep-toe booties are a street style star's dream.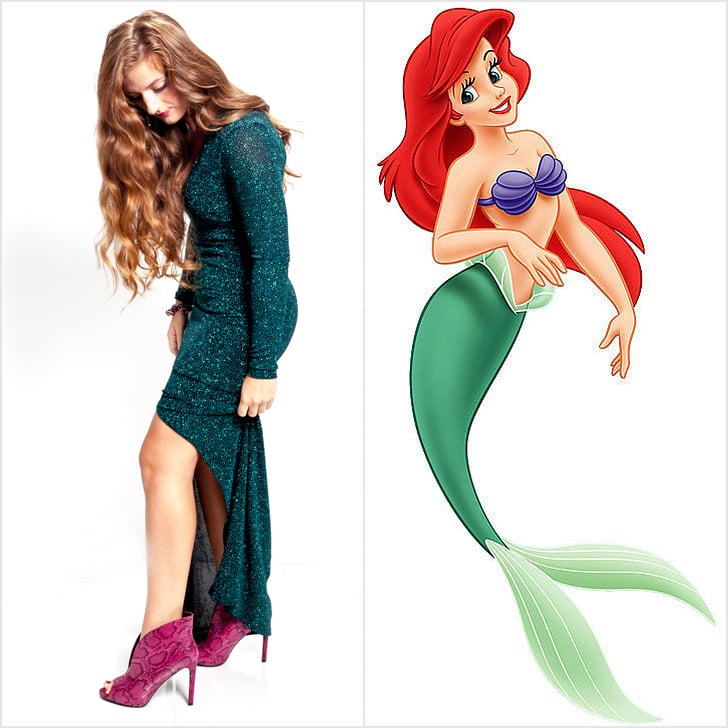 2. Belle
Belle's shortening her hemline but sticking with a feminine, off-the-shoulder silhouette. Just because her bright-yellow skater dress looks dainty, doesn't mean she can't turn up the edge. A style star would nix coordinating ballet flats for strappy black lace-ups and add a statement cuff as the finishing touch.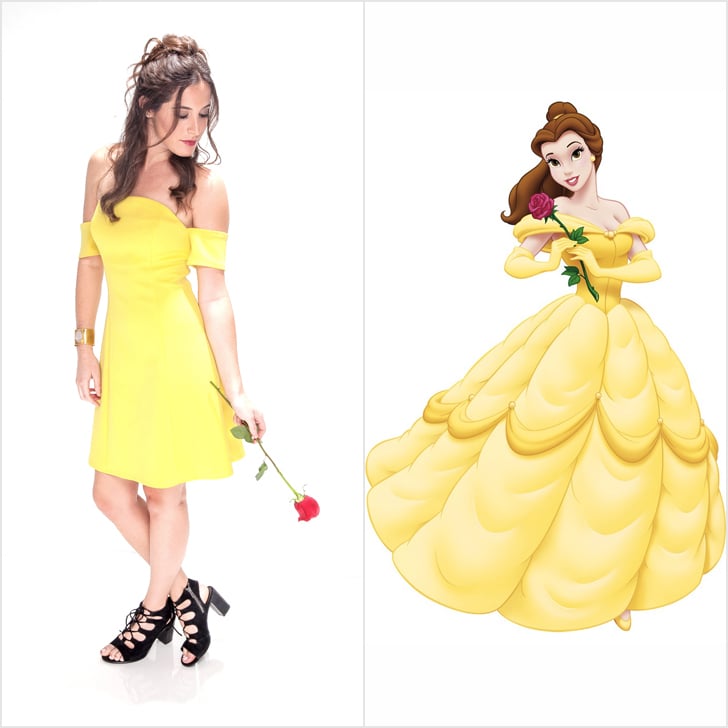 3. Cinderella
As much as we associate Cinderella with her beautiful ball gown, it's the baby-blue shade of her dress that's most recognizable. Why not try a flattering jumpsuit that you can wear again later over an off-the-shoulder top? Speaking of footwear, our type of glass slippers come in the form of embellished sliders, and we're really giving Cinderella's look a '90s edge with a thick statement choker.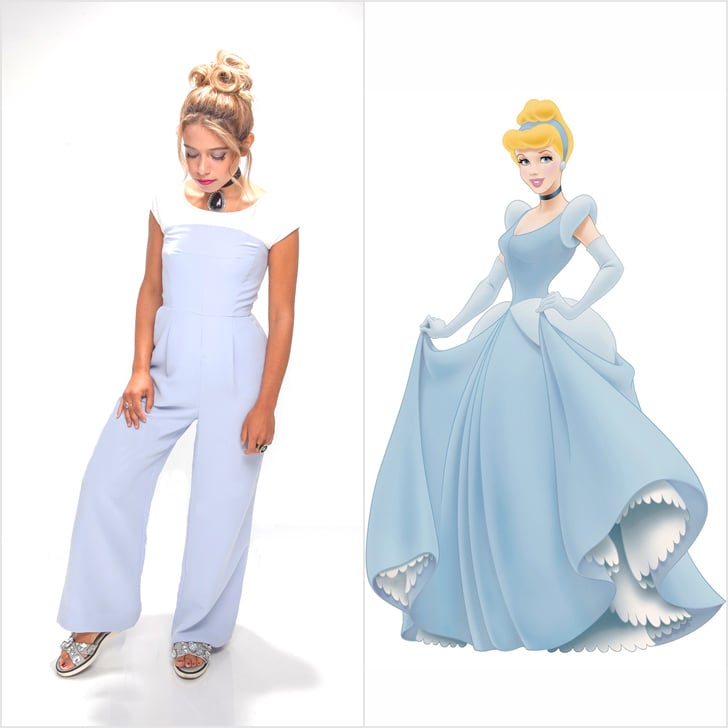 4. Jasmine
As far as we're concerned, crop tops are never going out of style. We love how this one in particular is knotted nonchalantly, showing just a hint of the midriff. High-waisted, wide-leg pants are more on trend than Jasmine's low-slung tapered version, but Jasmine's all about her chunky baubles — and we're following suit.
5. Pocahontas
We're upgrading Pocahontas's one-shouldered, asymmetrical mini to a suede style with crisscross laces at the waist. And since fringe is still in, her look is complete with a pair of functional ankle-strap sandals, with gold metallic buckles that play up a turquoise beaded statement necklace.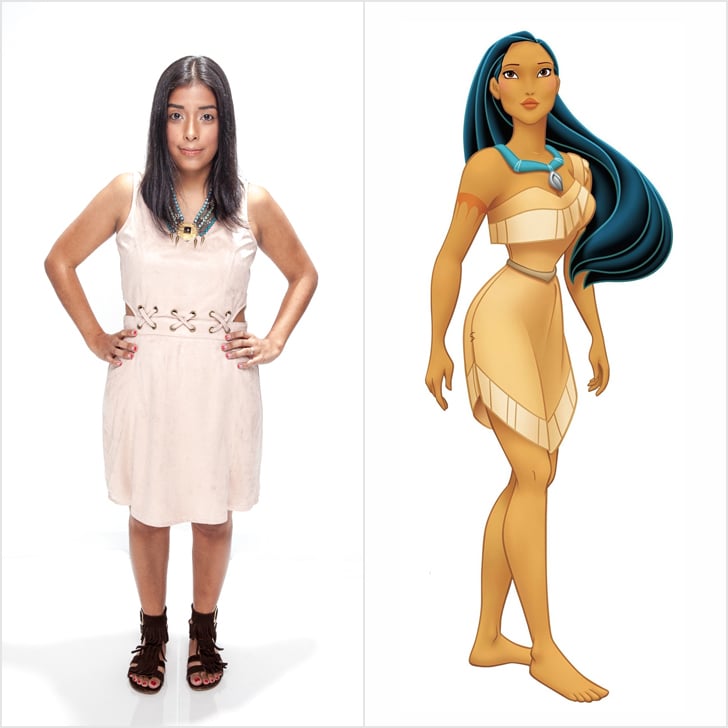 6. Sleeping Beauty
While Princess Aurora's sugar-pink gown was structured, featuring geometric details, the modern version is rounded out with subtle ruching, cap sleeves, and a shorter hemline, in order to show off a pair of wear-with-anything leather pumps. The crown in question? Really just an embellished gold bib necklace you can work two ways.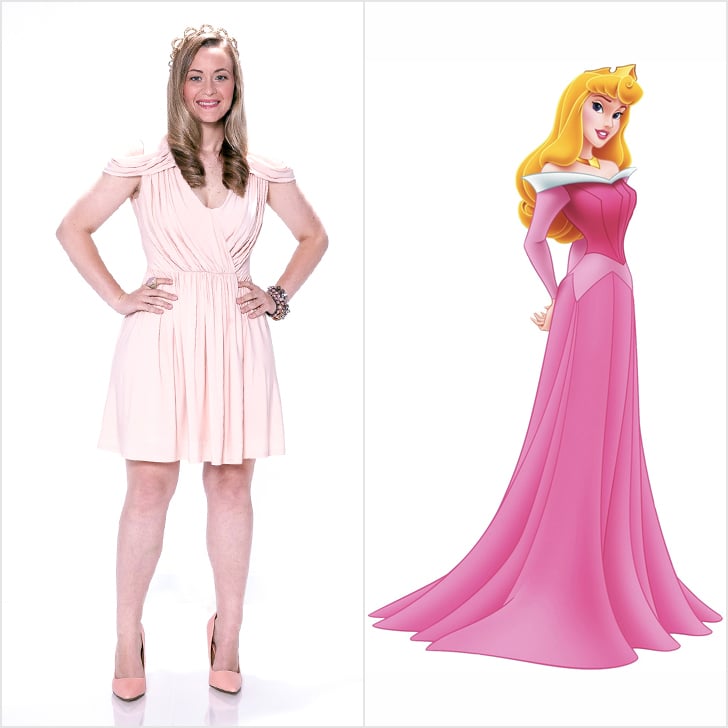 7. Snow White
Snow White is tucking her cobalt blue, ruffle-sleeved silk top into a high-waisted yellow midi that flatters her tiny waist. Rather than overdoing it with three bows, she's flaunting her signature headband, complemented by a pair of smart patent-leather heels. The finishing touch? An embellished statement necklace that ties the look together in a way that feels more fresh than a crisp white collar.